The Festival of Laughter was held on
17th, 18th, 19th February 2006
A weekend of fun for all the family at
Invergordon Arts Centre, Invergordon
You could buy tickets at
in Dingwall at OFF THE PEG
in Tain at THE TOWER BOOKSHOP
and in Invergordon at NOREEN's & KELLY's
Great WEKEND TICKET £15/£10 concession
FRIDAY 17th


7:30pm


Dingwall Players

in

"The Blood Donor"

Plus a monologue by

Terry Langdale

£6/£4 conc

SATURDAY 18th


12pm


Family Fun

Juggling

Clowning Skills

Face painting

all £2/£1 conc

2pm


Comedy workshop

For over 16's

£4/£3 conc

Double Bill


7.30pm


Tain Players

in

"Curare and Old Spice"

8.30pm


Invergordon Players

in

"Zartan"

2 plays - £4.50/3 conc

SUNDAY 19th


2pm


Buffet 'Laffin Lunch'

Cabaret

Short play - "Buzz"

by Tain drama group

and a short film

"Woolly Comforts"

by the Invergordon Youth Players

£5/£3 conc
Back row L-R: Christine Marsland, Ro Goodwin, Robert King, Alexander MacLeod, David MacIver, Emily Goodwin.
Front Row L-R. Fuggo King, Carrie Hunter and director Pam Summers
Promotion
The organising committee led by Cath Giles ably assisted by Pam, Fuggo, Charlotte, and Ro knew that promotion was to be important for the event's success. Two hundred posters were sent out along with 2,000 flyers. And one biiiig poster in Noreen's and Kelly's window and a just-the-business banner across King Street . . . .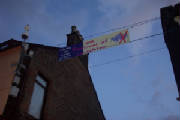 Banner in King Street, Invergordon
More festival info coming soon.....